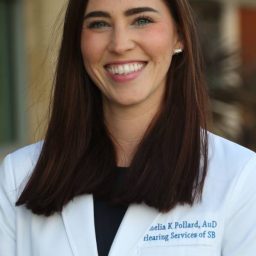 Amelia Kramer-Pollard Au.D., graduated from Ohio University with a Bachelor of Science in Communication Disorders and earned her doctorate degree from Indiana University.
She is a member of the American Speech-Language-Hearing Association (ASHA).
Dr. Kramer-Pollard practiced audiology in Charleston, South Carolina prior to relocating to Ventura, California and joining Hearing Services of Santa Barbara and ENT Associates of Santa Barbara.