Hearing loss is common, affecting nearly 48 million Americans. Because it's a progressive condition – meaning it develops slowly over time – many people are unaware they even have it. By the time they do schedule a hearing test, their loss has often progressed beyond a stage that is easily treatable. This is why it's important to get tested regularly and identify hearing loss early.
What Does ASHA Recommend?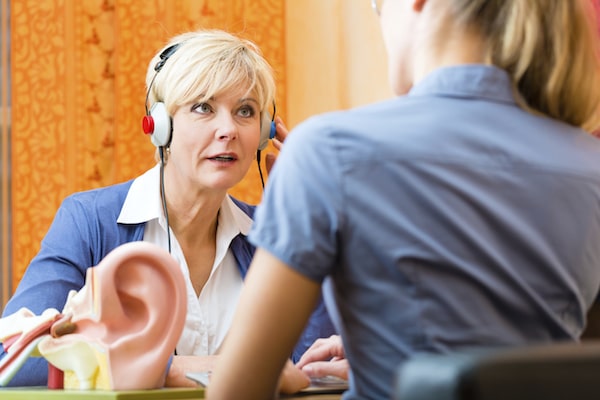 According to the American Speech-Language-Hearing Association (ASHA), you should get a hearing test in your early 20s to establish a baseline that your audiologist can compare future hearing tests to. You should then be tested about every ten years until age 50, then every three years thereafter.
Some people who are at greater risk for hearing loss should be tested more often.
People Working in Noisy Environments
If you work in construction or another noisy industry, you're at risk of developing noise-induced hearing loss. Any sound over 85 dB – about the volume of highway traffic – can cause irreversible hearing loss if you're exposed for long enough. If you're regularly exposed to loud sounds, you should be screened annually by your primary care physician and referred for a test if the screening indicates you may have symptoms.
Newborns
All 50 states have implemented some form of the Early Hearing Detection and Intervention (EHDI) program. This ensures all babies are screened for hearing loss by one month of age, diagnosed by three months of age and receiving intervention services by six months of age. This ensures children born with hearing loss develop crucial speech and language milestones on time.
Older Adults
About one in three people between ages of 65 and 74 have some level of hearing loss, and this number increases to one in two for people over age 75. We recommend getting a hearing test at age 60 and then about every three years.
People with Hearing Loss
Even if you're already being treated for hearing loss, it's important to get regular tests. Your hearing is likely to change over time, and getting re-tested every one to two years will allow your audiologist to ensure the programming of your hearing devices is suitable for your needs.
For more information about hearing tests or to schedule an appointment with an expert, call Hearing Services of Santa Barbara today.
Learn More About Hearing Loss