Once your audiologist has determined that your type and degree of hearing loss lends itself to treatment with a hearing aid, the selection and fitting process begins. This is important, as hearing aids are not one-size-fits-all devices.
Hearing Aid Selection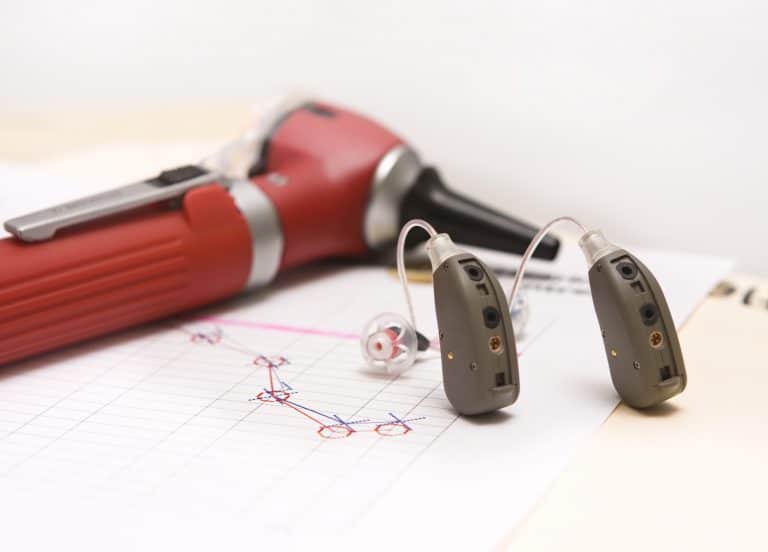 There are a wide variety of styles and brands on the market right now. Your audiologist will work with you to determine the best device for your hearing loss.
The first item they will consider is the results of your hearing test. Small hearing aid models are suited for milder hearing loss while larger options are designed for those with more advanced degrees of loss.
Next your audiologist will review your lifestyle needs. Where and how you spend your time is important in the selection process. Those who spend most of their time with a small group of people will not require the same amount of technology as someone working in a busy office or presenting to large groups.
Another aspect to consider if your aesthetic preference. There are small hearing aids that are practically invisible or larger ones that sit behind your ear and come in a wide variety of colors.
When choosing your hearing aid style, keep in mind your dexterity level. Smaller devices require more frequent battery changes and have tiny buttons, while larger devices will last longer and be easier to handle.
Hearing Aid Programming
Once you have determined the right hearing aid for your unique hearing loss, your audiologist will order the device. When it arrives, your audiologist will connect the hearing aid to their computer to calibrate the device in accordance with your degree of hearing loss and listening preferences.
When you arrive for your first hearing aid fitting, your audiologist will place it in your ear and turn the device on. This can be overwhelming, as you may experience sounds you have not heard in years.
You audiologist will then run a few tests to make sure your hearing aid is amplifying sounds correctly.
You will then get a tutorial on how the hearing aid works, how to care for it and how to use all the additional features.
Before leaving, you will be asked to schedule a follow-up visit for a few weeks later. This gives you time to live with your hearing aid and to note what needs to be adjusted and fine-tuned. Your follow-up visit also gives you an opportunity to ask your audiologist any questions that come up while wearing your hearing aid.
To learn more about the hearing aid fitting process or to get started on your own journey toward better hearing, contact the experts at Hearing Services of Santa Barbara today.
Learn More About Hearing Aids